Interdisciplinary Cooperative Course
COURSES

CHARACTERISTICS

Mechatronics
(/
dept/cooperation2.html)

Mechatronics is a basic technology which can develop ultramodern high-functional device and product which can be made only by the combination of common core technologies in electronics, electrical, mechanical and computer engineering.

Geographic Information System(GIS)
(/ dept/gis)

GIS is a computer-based information system that enables capture, modelling, manipulation, retrieval, analysis and presentation of geographically referenced data such as city information system, automobile travel guideline system, environmental information system, and so on.

Precision Machining
(/
dept/cooperation3.html)

Precision machining is aimed at developing the technology in the field of automobile, aircraft, train, high speed train, and electrical-electronic devices to improve the competition.

Cleaning Engineering
(http://ieti.pusan.ac.kr)

Cleaning engineering is to provide a description of the technical and regulatory approaches to hazardous environment treatment and to manage society's waste in a manner that meets public health, environmental concerns, and the public desire to reuse and recycle waste materials.


Information Communication
(Information system engineering)

Information system engineering is to provide theoretical knowledge and techniques of computer network, computer graphics, database, operating systems, VLSI design, programming languages, artificial intelligence, computer architecture, software engineering and to apply their knowledge in the filed.


Information communication
(Department of image information engineering)

Image information engineering is to improve the capability of handling image information by learning in the areas of color science, image processing system design, digital movie making, game programming, and planning of animation and game.

Powder Technology

Particular or powder technology deals with a variety of particles, from submicrometer to large grains and gravels, from liquid mist or droplets to bubbles as well as solid particles and aggregates. It is related to work in the medical, biological pharmaceutical, chemical, mining, metallogical, mechanical, civil, food, and agricultural science and engineering fields.

Biomedical Engineering

Biomedical Engineering is to combine engineering with physical, chemical, molecular and cellular biology to develop new approaches to biomedical technology and to foster research in the rapidly growing discipline of Biological Engineering.

Environmental system

Environmental system is an interdisciplinary research and educational alliance focused on discovering which ordinary interactions between humans and environmental chemicals, biologicals, or radiation, are in fact harmful to health.
JOINT PROGRAM

SPECIALIZED FIELDS

Relative department

Management

Research Institute of Mechanical Technology

Univ.-Ind. joint Program

Intelligent Mechanical System

mechanical engineering, mechanical design engineering, intelligent mechanical engineering, naval architecture and ocean engineering, awros pace engineering, industrial engineering

Research Institute of Mechanical Technology,

LG electron

Management of Industry Technology

Univ.-Ind. joint Program

Management of industry technology

the whole class and a management faculty

Industrial engineering,

Korea Electroeoic power Ins. (Kori atomic energy.

- main office)

A Graduate Ul-San a branch 9institute

Univ.-Ind. joint Program

(Establish Prearrangement 2002.3)

mechanic, applied material, information computer, construction engineering

the whole class

Univ . Pusan,

College of engineering,

The Ul-San Chamber of Commerce and Industry
Univ.Research Ins. joint Program

Properties of Cooperative Research Institution

A course of study

Korea Institute of Machinery and Materials (http://www.kimm.re.kr)

KIMM(Korea Institute of Machinery and Materials) was founded by Korean government for research and development in the machinery and materials science. Since its establishment in January 1981, it has been advancing continuously.

A course of study of relative departments are sameness

Korea Electrotechnology Research Institute (http://www.keri.re.kr)

Korea Electrotechnology Research Institute is one of the major national research institutes supported by Korean government. With more than 20 years of experiences, KERI conducts a wide spectrum of research and development programs including electric power supply, energy efficiency, environmental protection, electrophysics, power apparatus, superconductivity, power-line telecommunication, advanced materials and so on.

Korea Institute of footwear and leather technology (http://www.kiflt.re.kr)

Korea Institute of footwear and leather technology is research institute for advancement of industries of materials, components, automation for footwear and leather products. This institute conducts study on adhesives, fiber, rubber and high performance materials , development of fancy leather material and renovation of its processing technology, automation and rationalization of production process, development of design and fashion based on human engineering

Korea Institute of Industrial Technology (http://www.kitech.re.kr)

KITECH (Korea Institute of Industrial Technology) 's technology development research fields are divided into seven categories. Capital goods technology development involves the development of technology related to automated production lines, high-precision machinery and refrigeration facilities. The central motif of industrial restructuring was the technology innovation and transformation from large conglomerates to the promotion of small and medium enterprises

Korea Basic Science Institute (http://www.kbsi.re.kr)

Korea Basic Science Institute (KBSI) was established in August 1988 as the first national center to house various user facilities to help researchers across the nation carry out basic science research. By operating most advanced state-of-the-art research equipment and facilities which are typically too expensive for universities or institutes to acquire individually, the facilities are utilized efficiently and joint collaborative research are conducted at the Daedeok headquarters and five reguional branches. KBSI is also leading a national fusion R&D program, which is to design and construct a superconducting tokamak device, called KSTAR (Korea Superconducting Tokamak Advanced Research).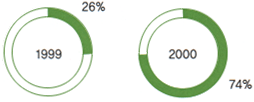 Increasing no. of oversea student
Incresing no. of oversea student

Country

1999

2000

Taiwan

10

17

China

6

11

Japan

0

9

U.S.A.

1

5

Vietnam

0

2

Philippin

1

0

Etc

0

8

Total

18

52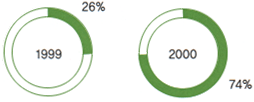 Increasing no. of foreign scholars
Incresing no. of foreign scholars

Country

1999

2000

U.S.A.

12

11

China

1

12

Canada

2

6

India

0

4

Japan

1

0

Etc

3

10

Total

19

43